COMPANY INTRODUCTION
10 years
Weihai Ronghua Fabric CO.,LTD is the professional conveyor belt producer and supplier in China. We have worked in conveyor belt business over 20 years. During the past 10 years, Ronghua put the QUALITY on the first place all the time. That's why all our customers keep working with us for long term and most of the customers have 10%-20% increase of business every year.
24 hours
Please contact us if you are looking for a reliable conveyor belt supplier. Each of your inquiries will be taken into account and get our response within 24 hours.
Ep/Nn/Cc/High Temperature/Fire Resistant/Oil Resistant/Tear Resistant/Wear Resistant Open Closed V Type Chevron Fabric Pattern Rubber Conveyor Belt
Product property
Chevron (patterned) conveyor belt is composed of belt carcass and pattern. The shape and height (dept) of patterns is subject to the material it conveys and the angle of the machine. On the surface of the belt there is a part higher than the belt body. We call it chevron or pattern.
Belt types
♦ Types: Open V, Closed-V, L type, H type, Y type, A type and F type, etc.
♦ Width: 400MM-1200MM
♦ Thickness: 4-50mm
♦ Types: EP80-EP630
♦ Feature: Good adhesion and long working life
Application
:
Chevron (patterned) conveyor belt mainly conveys powder, granulated, and small lump materials at the inclination of no more than 45º. It can also convey packaged material.
Some of the areas of application include for meeting the transportation demands of:
| | |
| --- | --- |
| Wood Chips | Sand & Gravel |
| Heavy Duty Scrap metal | Minerals - Coal & Ore |
| Materials - Fine Coal & Grains | Waste & Recycling Plants |
| Road Construction | Crushing Industries |
| Bagged Materials | Steel Pellets |
Selections:
Selection the type and height of cleats depends on the material to be conveyed and the angle of inclination:
Type of material
Material example
Max. angle of inclination
Height of cleats
H(mm):
14
H(mm):
16
H(mm):
25
H(mm):
32
Powdery
Flour, etc.
25°
25°
28°
30°
Loose flowing
Corn, barley, wheat, rye, etc.
20/25°
20/25°
25/30°
25/30°
Loose rolling
Gravel, ground stone, etc.
25°
25°
28°
30°
Sticky
Wet sand, ash, wet loam, etc.
30°
30/35°
35/40°
40/45°
Packed
Sacks, paper sacks, etc.
30/35°
30/35°
35/40°
35/40°
Cleat pattern ranges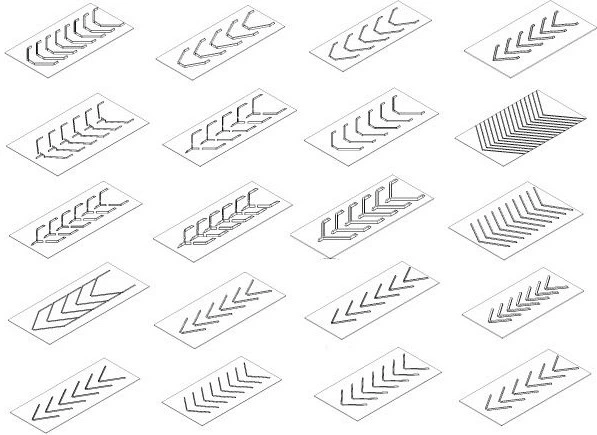 1. Conveyor belts with Close V type profiles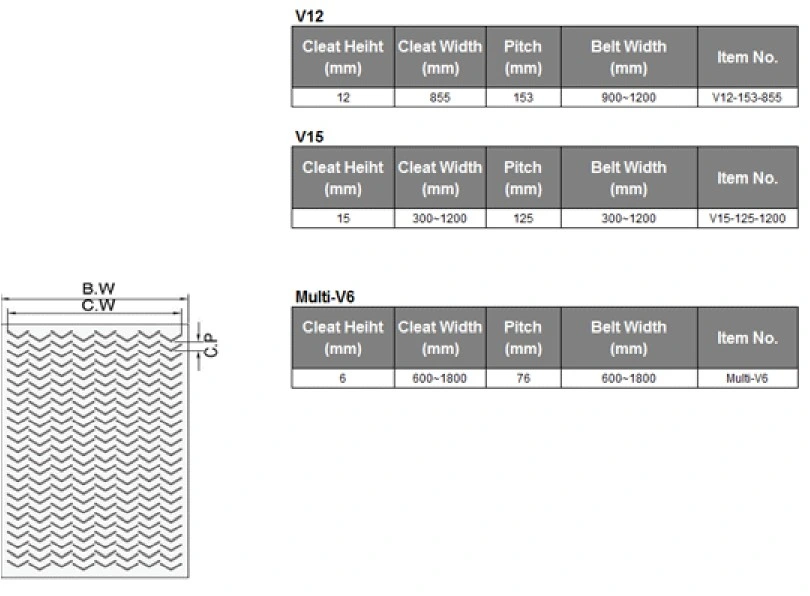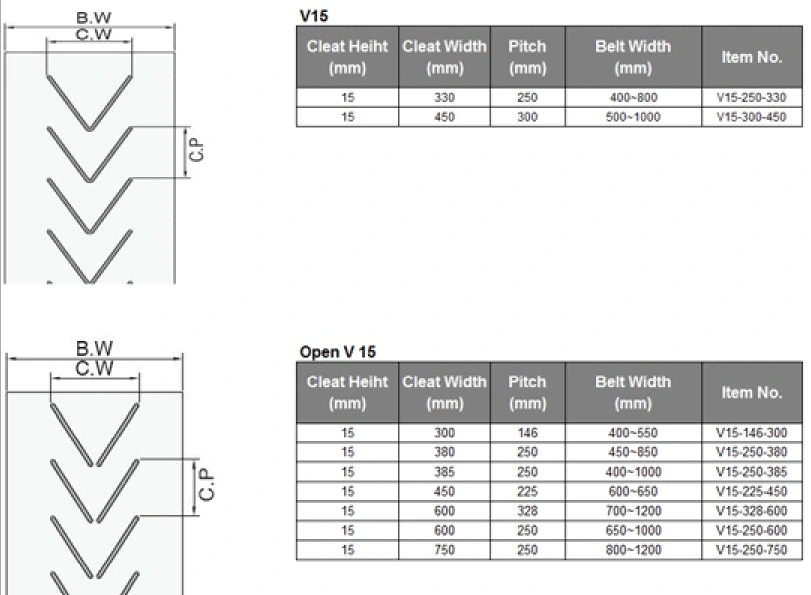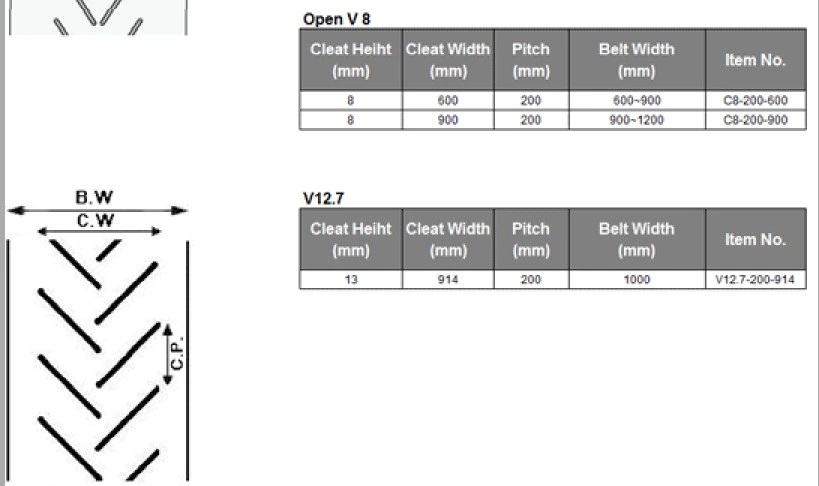 2.Conveyor belts with U type profiles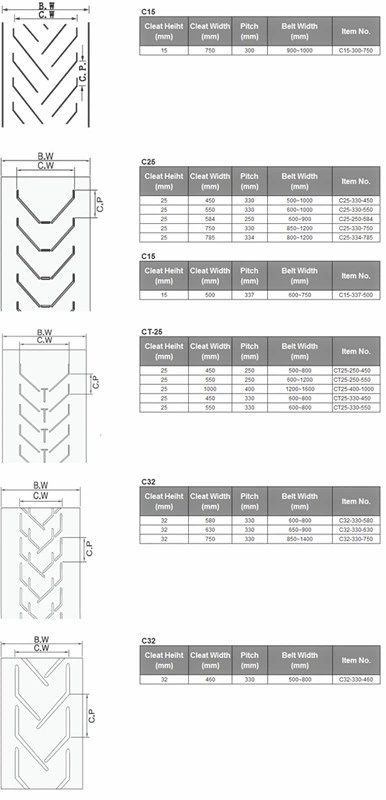 3.Conveyor belts with Y type profiles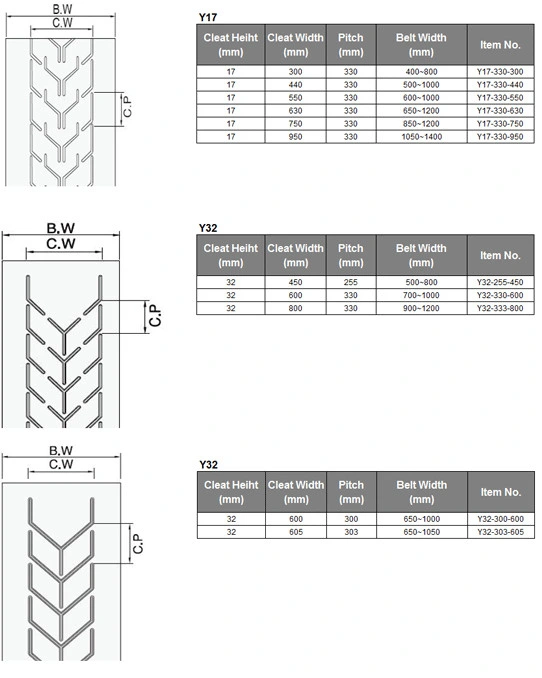 4.Conveyor belts with G type profiles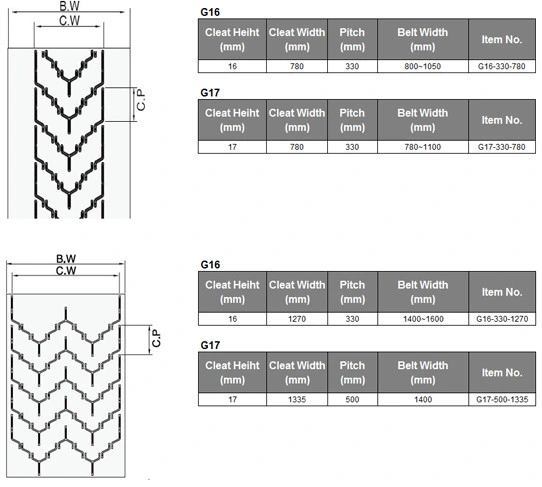 Production Procedure
1. Raw Material
2. Rubber Smelting
3. Shaping
4. Vulcanization
Packaging & Loading:
RONGHUA makes different packaging according to different market's demand. Such as different color wrapping and different labels.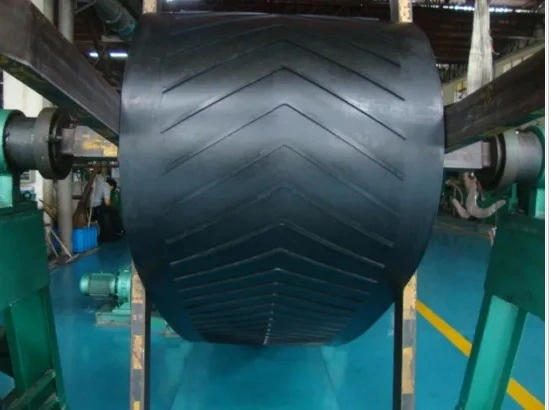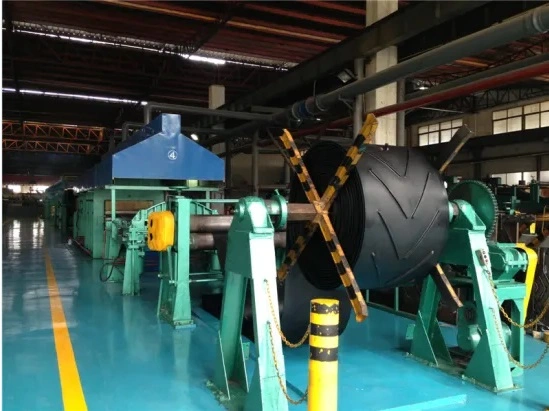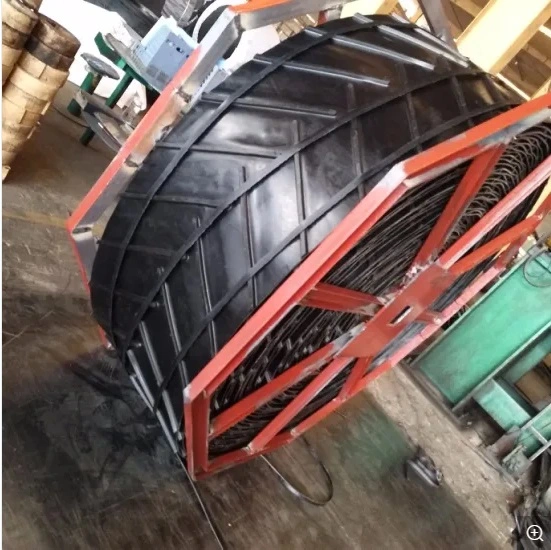 Market Feedback:
RONGHUA high performance belts attracts more and more customers. Our customers choose RONGHUA for high quality, fast delivery, abundant size and pattern range.
Market Visiting:
We RONGHUA will arrange market visiting every year to different markets to help our customers get orders from their end users, also our professional engineer and technology team will also deliver some expertise about belt to our customers.
Why choose us :
1.we are manufacturer,so the quality and price are directly controlled by ourself.
2.we owned the latest equipments and our engineers and production managers have more than 10years' experience.OBM ,ODM and OEM are all available!
3.our products have obtained 5 patents,and there're more in applying.
4.our company has built cooperation relationship with many mine and metallury plants,and their praise proves our quality.
RONGHUA Belting Business FAQ
Q:What is your production capacity?
A:RONGHUA Belting has 6 production lines and its capacity is 3000meters per day.
Q:How about your lead time?
A: It is 10 ~ 25days for regular belts.
Q: What is your M.O.Q ?
A: M.O.Q is 1*20GP. The less quantity is ok but its cost will be higher.
Q: Do you have belt warranty?
A: At least 12months service life for regular belt. HR T4+ belt 3~6month.
Q: What certificates do you have ?
A: RONGHUA Belting has obtained ISO9001,ISO24001 and ISO28001 certifications.